Arken
A downloadable game for Windows
Welcome to the world of Arken
In this retro inspired Zelda-like you take the role of the hero to save not only one but two worlds.
'The day has come for you to take the Guard's Trial, young knight!', the king of Liones Castle spoke to me. Back then, I didn't know it was the day my quest to save Arken started. So I left the castle and went South to the Cave of Trials.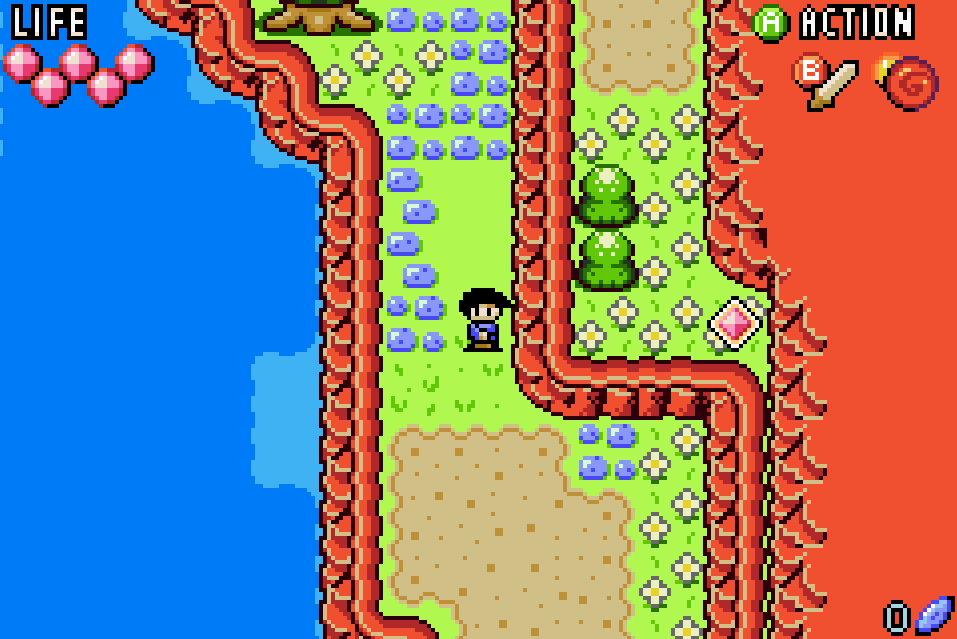 Note of the developer
After a longer hiatus, working on and releasing other projects, I thought it was time to finally finish this game. It is a project of my heart and so I began to completely remake the engine and graphics from scratch 3 months ago. Fortunately I found RyanAvx, a Twitch streamer and music maker, who is now in charge of doing all the music and sound effects. And he has already done a really great job! Thank you, Ryan!

Also, I decided to make the original game idea of a procedurally generated game, an option. In the full version you will not only be able to play the randomly generated world version that you know of previous versions, there will also be an Item randomizer mode. Inspired by popular randomizers of today (Zelda - A Link to the past etc...) there will be a bunch of options for the randomization logic, like keysanity, enemizer and so on.
What this Demo contains
Story mode with the first 3 full dungeons of the game and around 40 % of the first overworld.
You can already find lots of optional items, talk to people and explore the world.
Supported languages:
- English
- German
Which input methods are supported?
Currently the game supports keyboard and XBOX-controllers. You are able to configure the keys / gamepad buttons in game. To reconfigure the key mapping, select options in the file select screen and navigate to the input device you want to configurate.
This table contains the default input settings:
| | | | |
| --- | --- | --- | --- |
| Button | Keyboard | Gamepad (Xbox) | Actions performed |
| | Arrow-Up | DPad-Up | Move player, navigate menus |
| | Arrow-Down | DPad-Down | Move player, navigate menus |
| | Arrow-Right | DPad-Right | Move player, navigate menus |
| | Arrow-Left | DPad-Left | Move player, navigate menus |
| | A | Button 1 (A) | Player talk, lift, roll etc, confirm in menus |
| | S | Button 2 (B) | Use Sword, cancel in some menus |
| | F | Button 3 (X) | Open map, close map |
| | D | Button 4 (Y) | Use equipped item, save in inventory |
| | E | Left shoulder | Quick swap items |
| | R | Right shoulder | Quick swap items |
| | Enter | Start | Open inventory, close inventory |
What if I find a bug?
It's very likely you will find bugs. If this is the case, please report this to me, so I can improve the quality of the future builds. You can use itch.io or contact me via Twitter: @P_Cat_
Hey, I like this game! How can I support its developement?
I really appreciate any kind of feedback! Do you have some ideas how to make the game better? Did you find things that you didn't like? Please tell me! Also, a donation is very much appreciated and helps improve the game's graphics and audio quality!
Also, join the Discord: https://discord.gg/VruPcKtNWP
Credits:
Music & Sound effects by RyanAvx (Twitter: @RyanAndBreezy, Itch.io: RyanAvx)
Thank you very much for playing! Hope you enjoy!
| | |
| --- | --- |
| Status | In development |
| Platforms | Windows |
| Rating | |
| Author | PCat (free) Games |
| Genre | Role Playing |
| Made with | MonoGame |
| Tags | 2D, Action-Adventure, Action RPG, Exploration, Game Boy, Pixel Art, Procedural Generation, Top Down Adventure, zelda |
| Average session | About a half-hour |
| Languages | German, English |
| Inputs | Keyboard, Xbox controller |
| Accessibility | Configurable controls, High-contrast |
Install instructions
Unpack the downloaded ZIP-file in an empty folder on your harddrive. Execute 'Arken.exe' (might want to start as administrator).
Download
Download
Arken_Demo_0_83_Windows.zip
21 MB